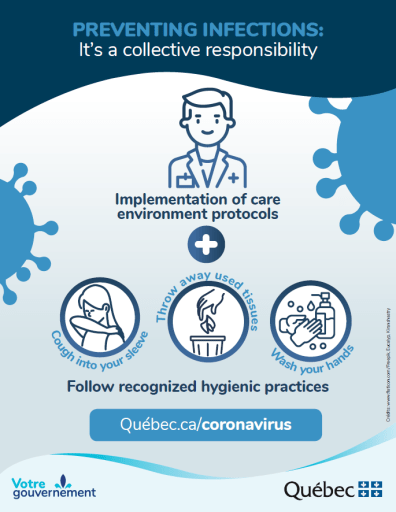 In order to comply with the Quebec Health Ministry's latest announcement, we have implemented further precautionary measures that follow the directives for seniors' residences in Quebec, applicable from January 9, 2021 to February 8, 2021, until further notice. Our goal is to prevent exposure to COVID-19 at Grace Village for the well-being of our seniors and our staff and we appreciate your ongoing commitment to keeping the Grace Village Community safe. We invite you to take note of the following guidelines.
Family Caregiver Visits 
The Ministry has mandated that Family Caregivers providing significant assistance will be the only individuals permitted to visit residents. However, rather than three (3) designated Family Caregivers per resident, the CIUSSSE-CHUS has indicated that only two (2) Family Caregivers per resident will be authorized inside the residence. Please notify our Director of Care, Sandra Klinck, of the two designated Family Caregivers at  [email protected]. Caregivers must be pre-approved and added to the Caregiver list to be able to visit their loved one.
Only one Family Caregiver will be allowed to visit a resident at a time. There must be a 24-hour delay between each Caregiver visit to limit exposure. Family Caregiver visits must be reserved at least 24 hours in advance on weekdays with Sandra Klinck. This allows proper coordination with the care staff as all Family Caregivers must continue to be dressed in full PPE. Family Caregiver visits must end before 7:30pm to respect the Quebec government's new 8pm to 5am curfew.
Regular Family Visitors
According to Ministry guidelines for the Level 4 – Maximum Alert, regular visitors will not be permitted inside the Care Pavilion. Visits will be permitted for humanitarian reasons. Special considerations will be made for residents in palliative care. Please contact the Director of Care, Sandra Klinck, at  [email protected] or 819-569- 0546 ext. 5050. We will work together to support each resident and their loved ones.

The Bubble concept for seniors' residences was introduced by the CIUSSS, and is explained as the following: A group of people (maximum 4 to 6) who is considered a 'living cell' and in which there is a loosening of certain measures, such as social distancing. The group of clearly identified residents will always be the same and participate in the same activities together (meals, leisure). This allows quick efficient tracking in case of an outbreak. Visitors must also vigorously apply infection control and prevention measures to avoid the introduction of the virus in a bubble. 
 
Communications - Fighting Isolation 
Isolation is a major issue for seniors at the best of times, and contact with their families and friends is more important now than ever before. We encourage you to take advantage of these communication resources:
​

Building Access Restrictions 
Grace Village's top priority remains ensuring the safety of our seniors - it is critical to respect all guidelines intended to prevent the possibility of bringing contamination into Grace Village and endangering the health and safety of other residents. 
Residents can go on walks outside but must remain on Grace Village property and must follow the Ministry's safety guidelines such as social distancing, face mask and handwashing procedures.

Residents are able to freely go out in the courtyard garden accessible from their wing but must be wearing a mask.

Residents may not circulate between wings or around the Administration offices.

Outings will be limited to essential medical appointments.

Dining Rooms Closed
The Ministry has indicated that from January 9, 2021 to February 8, 2021, all dining rooms in private seniors' residences must be closed to prevent exposure. Residents must therefore have their meals in their rooms, at no extra cost. We are consequently rearranging the residents' rooms to allow for a safe and comfortable space to have their meals.  We will encourage residents to leave their rooms between meals while wearing masks for exercise and stimulation for those in wheelchairs.
Resident Activities
Activities have been adapted in order to comply with the Ministerial guidelines all while offering residents an opportunity for social interaction and the library is still open – lots of books to read! 
Individuals hired by residents or their family, such as private sitters and companions, will be permitted to return to Grace Village and will wear full PPE (following the same guidelines as Family Caregivers) due to the personal contact with residents.

Social distancing 
We are asking residents to respect social distancing measures and to keep a 2-metre distance from the other residents. We have also asked them not to visit each other in their rooms unless they can maintain the social distance, and they must wash their hands thoroughly after every visit.

Mail/Deliveries
Mail, including newspapers, is held 72 hours from the day it is delivered to Grace Village (e.g. mail received November 24th will be delivered November 27th). This includes deliveries by courier unless an essential or urgent item is required for resident care.
Mail to all wings is delivered by a member of the Resident Care or Recreation & Leisure teams; Admin staff are limiting their circulation in the wings. 

For mandataries who customarily pick up mail at Grace Village, mail can be mailed to you periodically or you may arrange to pick it up at the Business Office by emailing 

[email protected]

. Please make an appointment before coming to Grace Village.

Items brought to the Front Entrance
Packages dropped off to residents will be subject to the following guidelines:
Paper items (greeting cards, gift cards, gift bags, etc.) will be held with the mail received that day and delivered separately.

Only food items in sealed containers that can be sanitized can be delivered.

Items are separated according to what can be sanitized (Virox wipes) and what cannot.

We can accept deliveries of cut flowers and/or plants if they are wrapped in plastic and can be wiped down. ​
Infection Control Measures
We are actively screening employees daily, both to evaluate their health status and to encourage them in the work and care that they are providing.
Residents returning from stays in a hospital automatically go into 14-day isolation.

All staff in all departments are wearing single-use masks. No staff members are authorized to enter the resident wings (living units) in street clothes.

Other than designated individuals, Resident Care and Support Services staff are not moving from one resident wing to another within Grace Village in order to minimize contact between living units. No Grace Village staff are working in other residences.

Dr. Frazer and Dr. Soulard continue to be on call 24/7 and do their monthly visits by Telemedicine.

All regular shipment packaging (food, supplies etc.) coming into the loading dock is being wiped down with disinfectant before being distributed into the Grace Village Care Pavilion.

A UV lamp has been installed to disinfect cloth masks and clothing items such as hats every day; UV has been shown to be effective in disabling the COVID-19 virus.

CASH:  We are reminding residents and staff not to exchange cash among themselves or other people.

We thank you for your trust and understanding as we care for your loved ones during this period of unprecedented challenges. Please know that the relaxing of precautionary measures is something we take very seriously. Our teams are dedicated to finding ways to safely lift some of the restrictions while standing strong against the ever-present risks of COVID-19. The safety of your loved ones and our employees remains our top priority.                   
On behalf of the Leadership Team,
Andrea Eastman, Interim Executive Director

Please click here and submit the Contact form if you have any questions or comments for the Executive Director.  Thank you for your interest in Grace Village!