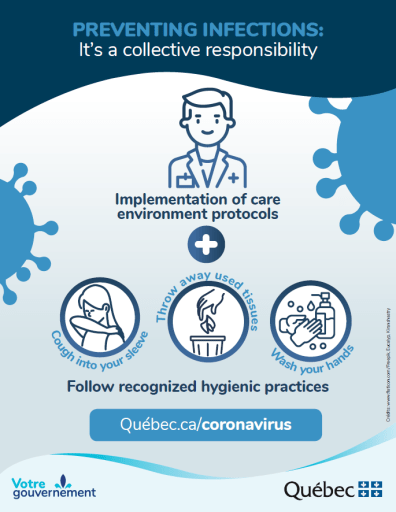 As announced by the premier of Quebec on September 7, family caregivers and all other visitors and volunteers visiting Grace Village after October 15 will be required to provide proof that they are adequately vaccinated against COVID-19. Please kindly share this information with your family members and other visitors.

Family Caregivers & Regular Visitors
All visitors and volunteers will need to follow the same screening process for indoor and outdoor visits. This includes handwashing upon arrival, receiving a clean medical mask, signing the visitor's log, and completing the screening form.
 
If you visit more than one resident, each one must be indicated on the screening form. In all common areas of the Care Pavilion, visitors must maintain social distance, wear a medical mask and do frequent hand hygiene.
Update: November 1st, 2021
We want to thank everyone for their cooperation and ongoing commitment to keeping the Grace Village Community safe over the past months in response to the COVID-19 pandemic. We invite you to take note of the following updates:
Visitation Station
Since October 15, unvaccinated families and visitors may use the Visitation Station to meet with a resident. This designated area allows unvaccinated families or other visitors to meet "face-to-face" without a mask, in a safe environment. Visits must be scheduled at least 24 hours in advance by contacting Sandra Klinck at [email protected].
Visits can be held between 9am and 3pm from Monday to Friday. The Visitation Station is accessible from the external door to the Wellness Centre. Upon entering the Visitation Station, all visitors must disinfect their hands and complete the screening form provided. Unvaccinated visitors may not have access to the washrooms inside the Pavilion.
Flu Vaccination Clinic
Our residents were vaccinated against influenza last week and our campaign continues this week for our employees. Please note that we will not be hosting a flu vaccination clinic for the community this year.
Third COVID-19 vaccine
The third dose will be available for our residents this month. A team from the CIUSSS will come on-site and work with our nursing team to vaccinate our residents.
Construction
If you have visited Grace Village recently, you may have noticed some construction work being done. These changes, required by la Régie du bâtiment, were identified prior to the pandemic however could only recently be completed due to the directives for senior's residences.
Adopt a tree at Grace Village
Would you like to be part of our Christmas decorating team at Grace Village? We are looking for resident families and volunteers to "adopt" one of our many Christmas trees in the pavilion. Decorations and lights will be provided. Contact our Recreation Team at [email protected] to sign up.
Christmas Tea and Sale
Grace Village will be hosting a Christmas Tea and Sale on Saturday, November 27 from 9am to 11:30am in Faith Hall open to residents, employees, resident families, and volunteers of Grace Village. This event will not be open to the general public. Please join us for holiday refreshments, sales tables and more! If you would like to have a sales table, please contact [email protected] by November 12, 2021. 
Resident Christmas Celebrations
We are planning four Christmas celebrations by wing this year with a special Christmas program & music to share some holiday cheer. Festive desserts will be served for the residents and their guests (one guest per resident). Please RSVP by November 24 at [email protected].
❖ Wing A (rooms 1001 to 1030): 2-4pm in Faith Hall on Saturday, December 4
❖ Wing B (rooms 2001 to 2030): 2-4pm in Faith Hall on Friday, December 3
❖ Wing C (rooms 3001-3021): 2-4pm in Wing C on Friday, December 10
❖ Wing C and D (rooms 3022 to 3030 and 4001 to 4030): 2-4pm in Faith Hall on Saturday, December 11
We are so grateful for the support of our community, and we look forward to seeing you at the upcoming events at Grace Village.
On behalf of the Leadership Team,
Andrea Eastman
Interim Executive Director