Our mission is to provide Excellent, Loving and Compassionate Care to seniors in our community.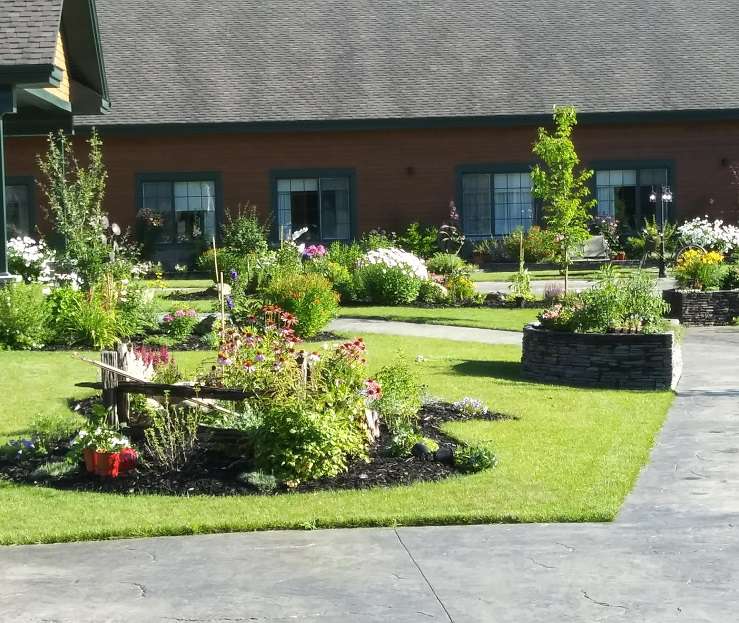 There is something special about Grace Village. You notice it as soon as you walk in - the warm and friendly environment where our 120 residents enjoy a home that encourages interaction within Grace Village and with the community, family and friends.
Grace Village offers accommodation for a broad spectrum of seniors' living needs:
Village Life: autonomous retirement living
Village Assist: assisted senior living
Village Nursing Care: regular, advanced and infirmary nursing care for seniors with physical and / or medical support needs
Village Memory Care: specialized memory and dementia care for seniors with reduced cognitive abilities. 
Nestled within 90 wooded acres in the borough of Lennoxville, City of Sherbrooke, residents and visitors at Grace Village can enjoy a beautiful natural environment, with our secure interior courtyard gardens and the impressive pine forest behind the Grace Village Care Pavilion. The interior of the Pavilion offers bright welcoming indoor lounges and large activity venues. 
Classified as a not-for-profit private seniors' residence and officially recognized as our seniors' actual residence for the purpose of home care services, Grace Village receives no government funding and was built entirely through donations by caring people from our surrounding communities and several philanthropic organizations. 
GRACE VILLAGE is well known for excellence in care, personalized attention and hospitality offering a full range of long term Assisted Living, Nursing Care and Memory Care services. 
The main Care Pavilion facility consists of four residential wings, or neighbourhoods, each with 30 rooms, community living and dining rooms, a Spa and a dedicated nursing office. The Assisted Living wing also includes an in-house dental office available to all residents, a post office and a self serve laundry facility.  There are also four adjacent semi-detached autonomous living units (bungalows).
Long-term, convalescent and respite care for our seniors is provided 24 / 7 by a team of dedicated RNs, LPNs and certified caregivers, with doctors regularly on-site and always on call.
A wide range of therapeutic services is available including physiotherapy, music therapy, massage and occupational therapy.  
Residents also enjoy a variety of events, entertainment and activity programming (exercise, crafts, games, social outings...), with a library, hair salon and a well-equipped fitness room designed for seniors.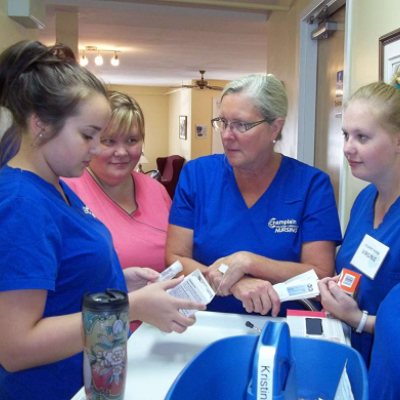 Our Residents' Living Environment
Our Leadership Team
Ms. Brigitte Lambert, Executive Director
Ms. Sandra Klinck, Director of Care
Mr. Alain Martineau, Director - Corporate Services
Ms. Karen Hornibrook, Special Projects
Ms. Alexandra Zirkelbach, Manager - Support Services
Mr. Bruno Vanasse, Manager - Facilities
Board Of Directors
Mr. Brad Willms, Chair
Dr. James Benson, co-chair
Dr. Robert Frazer, secretary
Dr. John Robb
Mr. Steve Allatt
Ms. Joan Drinkwater
Mr. John McNeill
Mr. Doug Buchanan
Mr. James Shufelt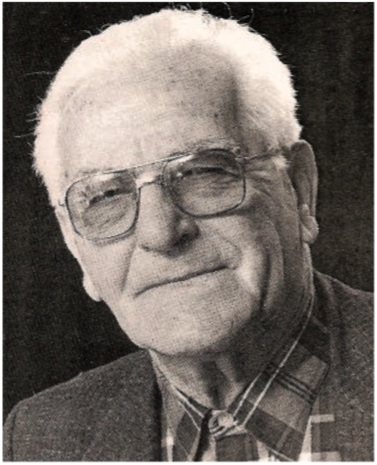 In 1957, Dr W. J. Klinck and a group of visionary Townshippers saw the need for seniors' care in their community and decided to act. They opened Grace Christian Home, now known as Grace Village, and later Connaught Home to provide excellent, compassionate and loving seniors care. 
Grace Christian Home served primarily English-speaking seniors but has progressed over the years so that Grace Village is now a bilingual facility with many francophone residents, while maintaining a strong identity and focus on supporting the English population in the Eastern Townships.
Dr. Klinck and the founders established a care model with a commitment to excellence, a sense of family and loving support for those in need that continues to be the foundation of our service. Over the years, Grace Village has been dedicated to excellence in every aspect of care delivery by maintaining the highest levels in care standards and contemporary senior care methods. As a result Grace Village has become a teaching platform for a variety of local area post-secondary educational programs for Nursing, Licensed Practical Nursing, Certified Care Giving, Special Care Counselling, Psychology as well as research in geriatrics. Today, we continue to honour the vision and core values set forth by Dr. Klinck and our founders.
Our Core Values:  as an organization and as individuals
Motivated By Love
Committed to practicing and showing compassion, respect, dignity and responsiveness to and among our residents, staff and work-related contacts; "Do unto others as you would have them do unto you".
Integrity
Committed to the highest standards of ethical, moral and legal conduct, displayed consistently through honesty and trust in all we do, and supported by a Code of Ethics that all staff must agree to and sign.
Excellence
Committed to the highest standards of quality of care and service, a spirit of dedication and innovation in everything we do, and a continuous focus on learning and self-improvement in providing care to our residents.
Professionalism
Committed to accountability and responsibility in all we do, providing consistency of Care based on the highest levels of professional competence and continuous good stewardship of everything we are entrusted with.
Teamwork
Committed to developing cooperative, respectful and supportive relationships with everyone we interact with, maintaining a constant focus on the mutual objective of delivering Grace Village's mission.