Grace Village Advancement Fund

The Grace Village Advancement (Capital) Fund
Aging infrastructure and extensive building code changes effective in 2018 required the Board of Directors of the Massawippi Retirement Communities in 2014 to develop a new facility strategy and business plan.
With significant input from our Eastern Townships community, a combined management and volunteer project team developed a sweeping Vision for Renewal that resulted in a new state-of-the-art 120 room Care Pavilion offering an expanded continuum of care model for our seniors, celebrated with a grand opening in July 2017!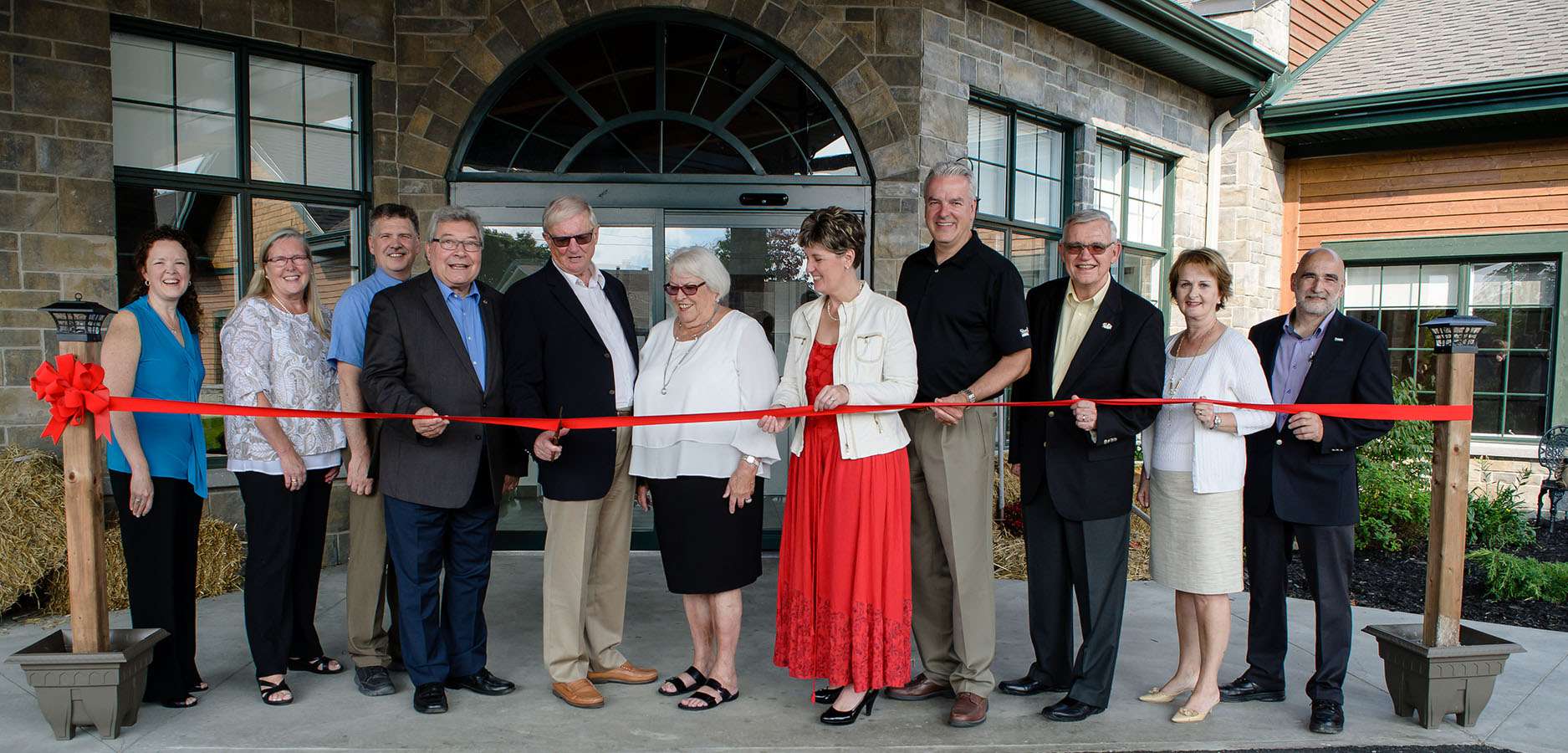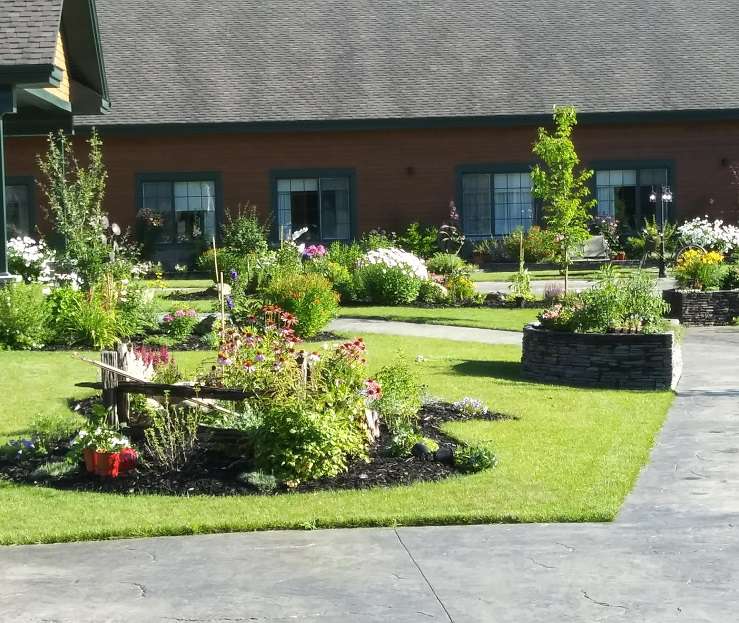 The move in July 2017 and the transition of our residents from the old buildings to the new Grace Village Care Pavilion was a massive undertaking.  However the accommodations, environment and opportunities for service for our residents (now at full capacity of 120), staff (130 full and part time) and volunteers (100+), have met and surpassed expectations. 
Relaxing in the beautiful & secure interior courtyard gardens, enjoying a residence-wide special event or weekly bingo and carpet bowling with family and friends in the Grand Hall, or even popping by our Bistro for a coffee, a muffin and a chat - everyone has benefited from and enjoyed the revitalized community the new Grace Village has enabled.
The success of Phase 1 - the new Grace Village Care Pavilion - and the generosity of our donors in making it possible through the Grace Village Care Foundation Capital Campaign has been nothing short of a miracle.
However there is still a substantial financial
requirement to be met in 2020! 
As a private not-for-profit organization with no government funding, our Grace Village Advancement Fund (Capital Campaign) still has several million dollars to raise to meet financial commitments over the next two years. In order to meet our final 2019 / 2020 Phase 1 commitment and fund the next development phases we need support from a broader base of Townshippers and former Townshippers (do we ever really become former Townshippers?!) who are concerned for the welfare of the seniors who helped build our communities.
Looking ahead, as donation funding allows, plans have been drafted and preliminary steps initiated for the next phases, with potential examples shown in this rendition image as 11 additional semi-detached Independent Living bungalows (upper right - 22 living units) and a 43-unit apartment complex (lower right) for Independent Living where closer access to medical and living support from the current main Care Pavilion (figure 8-shaped building at the left) is needed.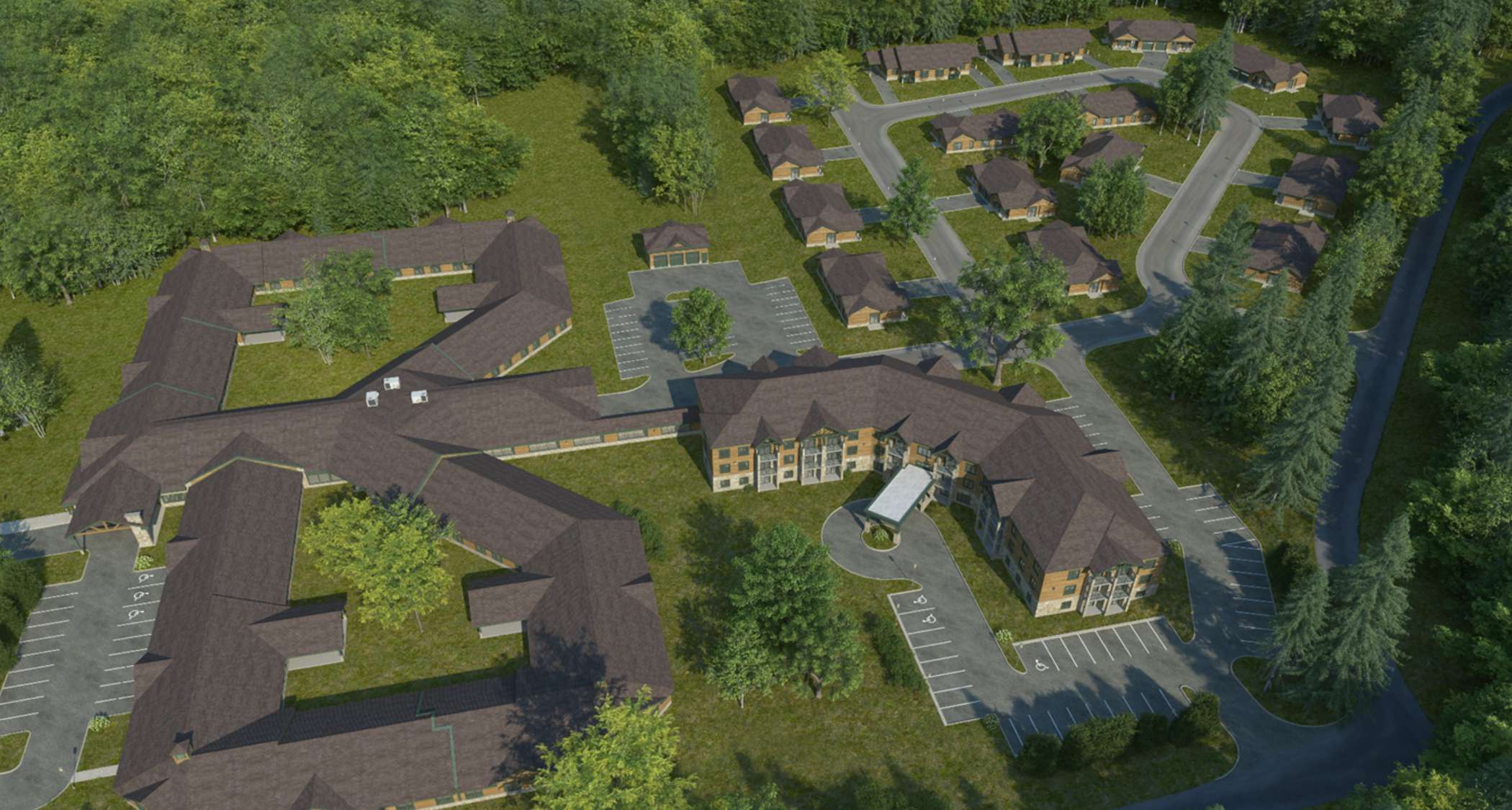 You can mail in a donation (cash or cheque) to:

Grace Village Care Foundation
1515, rue Pleasant View
Sherbrooke, QC  J1M 0C6

...or you can easily and quickly donate online:
WHAT IS THE FINANCIAL OBJECTIVE OF THE CAPITAL CAMPAIGN?
The original Capital Campaign financial objective was $15,000,000 in donations and pledges spread over 5 years. There is still a need for approximately $2 million in donations and pledges by the end of 2021 to meet this goal.
CAN A DONATION BE PLEDGED OVER A NUMBER OF YEARS?
Yes. Donors may spread their contribution to the remaining Phase 1 requirements over 2 years and to Phase 2 expansion over up to 5 years, allowing Grace Village and the Grace Village Care Foundation to meet the obligations of both current and future development and renewal projects.
WHO IS BEING INVITED TO CONTRIBUTE TO THE CAPITAL CAMPAIGN?
The Grace Village & Grace Village Care Foundation's boards of directors, committee members and staff have all contributed, and we are seeking the support of friends, local businesses, private foundations, families as well as any Townshipper who wants to support the seniors who built the Townships that we grew up in.
ARE DONATIONS TAX-DEDUCTIBLE?
Yes. The Grace Village Care Foundation is a registered charity. Your donation will result in an official receipt being issued for income tax purposes.
Our Amazing Advancement Fund Supporters
(IN ALPHABETICAL ORDER):
Annie Abdulla

Darlene & Harold Albrecht

Jim Fraser & Carol Alette

Alimentation Robert Lafond

Bruce & Audrey Allanson

Brian & Tanya Allatt

Michael Allatt

Reg & Philippa Allatt

Robert Allatt

Stephen & Barbara Allatt

Scott & Beth Allatt

Allatt Family Foundation

Chris & Karen Allatt Hornibrook

Judy Anderson

Cynthia Andrews

Elmer & Sheila Andrews

Marion Annesley

Carole & Aline Anto

Arlie C. Fearon Transport Inc.

Gerald Armstrong

Army Navy Air Force Ladies

Michael Atkin

Jim Atto

Lewis R Aulis

Debra Austin

James R. Baker

The Bannerman Foundation

Dorothy Baranek

Gordon Barnett

Anne Psaila Beardmore

Douglas & Gladys Beattie

Beryl Beckwith

Cindy Beland

Stanley Bell

Arnold Bell

Jacqueline & Claude Belleau

Donald & Lucie Bellehumeur

Laurence & Janet Bennett

Riva Benson

Pamela Bertram

Joyce Berwick

Sandra Biduk

Ronald B. Bishop

Joan Bishop

Greg Bishop & Donna Barker

Sue & Robert Black

Robert Blackwood

Roland & Lucille Blair

Blanchard Litho Inc.

Gesner Blenkhorn

BNP Performance

Corinne Bobbitt

Denis Boisvert

Alain Bouffard

Sylvie Bourdeau

Germain Boutin

Hugh Bowen

Heather Bowman

Jessica Boyd

Maurice & Judith Bradley

Raymond Brassard

Rodney & Marilyn Bray

Bridge Club - CFUW Sherbrooke

John & June Britt

Janet Broadhurst

Keith Broadhurst

Harry W Brown

Judith Ann Brown

Norma Brown

Keith & Marguerite Brown

Larry Bryan

Shirley Bryan

Margaret & Gerry Bryant

Douglas Buchanan

Bureautique N. Maltais Inc.

Robert Burns

William Roy Buttery

Jonathan Buzzell

Charlie & Janet Carman

Bryan Carruthers - Campbell, Bellam & Associes Inc.

Andrea Carter

Lynn Cass

Douglas S Cassidy

Alice Castonguay

Serge Castonguay

Thomas Cavanagh

Michel Chabot

Benoit Chapdelaine

Claude Charron

Celine Chartier

Louise Chartier

Allen & Anne Chase

Margaret Cheal

Rock Chretien

Terry Chute

David & Mary Clark

Ron & Roberta Clark

Eileen Clarke

Clarke & Fils

Jill Cobbett

Dian Cohen

Coiffure l'Air du Temps

Bertrand Collins

M Allison Connelly

Wendell & Myrna Conner

Kim Connor

Lenora Conway

Dr. Alain Côté

Esther Cowhard

Lillian & William Cox

Remi Crepeau

Barry Crook

Joan Crook

Bill & Linda Crook

Mike Crook

James Crook & Chantal Touzin

Deborah Crook-Hudon

Karolynn Csiszer

Robert Daignault

Tennesha Danforth

Benoit Viens & Mary-Ann Darby

Katherine Davey

David Duncan Holdings Ltd

James Davidson

Noella Dawson

Décor NW Inc.

Richard Desrosiers

Mary Dezan

Elizabeth Ann Dohan

Donlox -1993 Inc.

Jimmy Donnachie - Mini-Entreposage Lennoxville

June Douglass

Robert Downey

Jan Draper

Patrick Draper

Cynthia Drew

Donald & Eileen Drew

Ron Drew

Michael Drew

Brigitte Auger Drew

Joan Drinkwater

Hilton Driver

Ian Dudley

Bruce & Wendy Durrant

Leta Dustin

Peggy Dwyer

Michael Dytynyshyn

Andrea Eastman

Margaret Eastman

Larry Edwards

Electrique Price 1999 Inc.

Sam & Marlene Hayes Elkas

Jonathan Elkas & Nancy Wells

Yves Michaud & Deborah Emond

Cheryl English

Équipe TELUS Bienfaisance

Richard Evans

Mike & Happy Everett

Alberta Everett

Faith Foundation

Dale & Gail Farrell

Jill Fischer

William & Jill Fischer

Linda Fisk

Nick Fitzsimmons

Robert & Muriel Fitzsimmons

Jonathan Fortier

Duncan Fortier (In memory of/En Mémoire de Shirley Fortier)

David Fraser

Diane Fraser-Keet

John & Merle Frazer

Robert Frazer

Friendship Lodge - Masonic Foundation of Quebec

Molly Fripp

Sandra Gallichon

Jean-Pierre Garant

Lois B Garneau

France Gauthier

Benoit & Brenda Gauthier

Sharon Gautrey

Joan Gill

Global Excel Management

Tim Goddard

Pamela Goodenough

Pauline Goodenough

Marilyn Goodfellow

Margaret Goodhue

Angela Goodin

Grace Gospel Hall

Janis Ward Graham

Carolyn Grapes

Mahlon Grapes

Leigh Grapes

Jean-Luc & Lucille Gregoire

Ella Grieve-Bell

Charles & Carol Grundman

Mark Guilbault

Tim Guild - Multi-Com Inc.

John & Donna Haffenden

Whitman Haines

Carrol Haller

Rena Halsall

Robert Halsall

Beverley Hand

Cathy Hand

Ronald West & Patricia Harbinson

Député de Saint-François Guy Hardy

Deborah Harrison

Hayley Harrison

Kristina Hartwell

Stuart Haslett

William Letteney & John Hay

C Janice Hayes

Brian & Patricia Heath

Warren Heath

Daniel Heilig

Robin Heilig

Gisele Hellou

Pippa Hall & John Henderson

Ashton Herring

Paulette Hétu

Donald Clare Hill

John & Audrey Hillman

Denise Gagnon Hinrichs

Bernard Hodge

Georgina & Robert Hornby

Matthew Hornibrook

Grace E Hornibrook

Paul Hornibrook

Marie-Josee Hotte

Manon & Lance Howie

Linda Hoy

Dorothy Hudon

Ronald & Deborah Hudon

Colin Huff

Edith Hughes

Sharon Hughes

Wendy Hughes

Victoria Hughes-Games Crook

Byron & Elizabeth Humphrey

Stuart Humphries & Julie Bishop

James Innes

Integrity Investments

Helen Jackson

Basil & Joan James

Robert Jarjour

Craig Johnson

Valerie Johnson Fortin

Carol Jones

Pierre & Carolyn Jones

Peter & Carolyn Jones

Jenilly Joseph

Margaret Kasowski

Jessica Keeble

Judy Keenan

Jean & Ronald Kerr

Richard Kimoff

Sydney King

Gordon Kinkead

John & Sandra Klinck

Robert Klinck

Bill & Nicole Klinck

Joel & Sarah Klinck

Nancy Klinck Craig

Charles Kobelt

Evelyn Komery

Robert & Krystyna Kouri

Sandra Kouri

Martha Kydd

Brian Kyle

Gene Lacroix

Ferial Ladak & Colin Channell

Wilma Lee Laflamme

Earl Lancaster

Estate of Arthur Langford

Peter Langford

Roberta Langford & Eddie G. Cone

David Larin

Gloria Laroche (Luce)

Lucie Lavalee Bertrand

M. Carol Lawrence

Le Groupe Jean Coutu - PJC 352 Sherbrooke

Johanne N Lebeau

Elaine Lebourveau

Bernard & Patricia Lemieux

Les Entreprises Denis Boisvert Inc. (L'Ami Denis)

Les Entreprises Yvons Blais et Fils Inc.

Heather Leslie

Elizabeth Levac

Melanie Liddle

Francine Lilford

Stephen Lilford

Randy Little

Pauline Littlejohn

Jodi Logan

Stephan Longpre & Peter Provencher

Andre & Paulette Losier

Ardina Loughheed

Don & Jackie Loughheed

Louis Luncheonette

Hannelore Lowry

GCM Ltee

Wade Lynch

Duncan J & June Macdonald

George MacDougall

Marcella Anne MacEachern

Sarah MacEachern Corrigan

Roderick K MacIver

Edwin Mackey

Norma Mackinnon

Bernice Macmillan

Ann Maher

Stuart Main

Richard & Brenda Matheson

Yvon Mayer

Howard & Susan McComb

Mike & Joyce McComb

Raymond & Donna McConnell

Brian & Evelyn McDonald

Mary McDonald

Marguerite McEachern

Glenda McGerrigle

Don McIntyre

Stuart & Pamela McKelvie

Joseph & Kristan McKercher

Abigail McLean

Archibald McLean

John & Christel McNeill

Mecaniques Fletcher Inc.

Paul & Eleanor Millard

Mildred Miller

Ken Mills

Estate of Joan Mills

Mirella & Lino Saputo Foundation

Ann Mitchell

Ouida Ramon Moliner

Douglas & Suzanne Monteith

Danica Montgomery & Matthew Nutbrown

Graham Moodie

Carol Mooney

Margaret Moore

Elsie J Moore

Jim Moore - Express JW

Doreen Morissette

Motel Le Refuge

Motel Lennoxville

MPA Avantages sociaux - Michel Allard

Emma Muise & Kevin Smith

Gerry Mulligan

Anne Munro

Henry & Beverley Musty

Kenneth Neale

Ronald Nesbitt

Linda Nightingale

North Hatley Village Improvement Society Fund

Wayne & Louise Nutbrown

Beverly Davidson Oakley

David O'Conner

John P Ogden

Michael & Anne Ogilvie

John & Alice Oldland

Ronald Olson

Erin O'Neill

Linda O'Neill

Olivia Page

Joyce Parker

Michael & Debra Parker

Pauline Parker

Don Parsons

Ruth Partington

Scott & Elizabeth Crepeau Pashley

Jaqueline Patrick

Kelley Patrick

Wendy Patrick

Dr. Robert Paulette

Gilles Péloquin

Monica Perdriel

Bryan Perrault

Patrick & Nathalie Lafond Phaneuf

Ghislain Picard

Stephen Piercy - North Hatley Marina

Louis Pilon - Sebby's

Marco Poirier

Robert Pollock

Marc Potvin

Jackie Poulin-Cleary

Dianne Prah

David & Helga Price

Estate of Ruth Nan Price

Thomas Price

Mary Cheal Proulx

Mary Purkey

W Arthur Quick

Maureen Quigg

R. Brian Mathieu Inc.

John & Phyllis Rae

Carol Rand

James Ransehousan

Linda Ann Rasmussen Pelser

Raymond Chabot Grant Thornton

Wendy Rebanks

Paul Reed

Philip & Marilyn Reed

Donna Reid

Grace E Reynolds

James Reynolds

Robert & Judith Reynolds

Wayne Rich

Robert & Elizabeth Richardson

Lillian Rider

Barbara Rivett

John Robb

Nancy Robichaud

Karen Robinson

Phyllis Robinson

John & Christine Robinson

Elizabeth Sydney McRae & William Robson

Charles Leonard & Helene Rochefort

Julien Rochefort

Pierette Rochefort

Beverley Ross

Dorothy M. Ross

Heather Ross

Rotary Club of the Boundary

Richard & Sharron Rothney

Lloyd & Janet Rowe

Peggy Roy

Yvon Roy

Goldie Rule

Pauline Rutihinda

Dawn Saari

Roger Gosselin & Mercedeh Sabbagh

Rev. Alfred L. & Elizabeth Salt

Richard J. & Catherine Salt

Sam & Mimi Pollock Foundation

Bruce Sample

Lyle & Sandra Prupas Sample

David Sangster

Wyatt & Louise Savage

Eva Scheib

Schelling Family

Robert Scott

Rodney Scott

Philip & Monique Scowen

Scowen Foundation

Paul Setlakwe

Rev. Dr. Patricia Shannon-Peacock

Lilian Sharman

Sherbrooke Record

SIB Electrique Inc.

Helen Sirois

Carole Smith

Charles Smith

Donna M Smith

Wayne Smith

Wendall & Nancy Smith

Frances Smith

Wendell Sparkes

Janet Sparkes

John Spears

Richard St Dizier

St. Andrew's Presbyterian Church

St. Barnabas Anglican Church

Richard St. Dizier

Steve & Kathy Stafford

Jana Stankova

Jean Stefano

Steve E. Elkas Residence Funeraire & Crematorium

Heather Stewart

Patricia Stickles

Sheri Stinson

Tony Straessle

Richard & Virginia Strout

Danielle St-Vincent

Rick & Eva Stymiest

Subway

The Power Corporation of Canada

The W. Garfield Weston Foundation

Theatre Piggery Inc.

James Sweeny & Heather Thomson

Joan Thomson

Shannon Thorne

Stephanie Thorne

Wendy Thorneloe

Erwin Ticehurst

Tijaro Ltee

Chantal Touzin & Jim Crook

Nancy Townshend

Townshipper's Association

Ory Tracy

Ryan Tracy

Louis & Frances Trebino

Marie Trousdell

Doreen Tryon

Tunnell Family

Miles Turnbull

Rob & Deborah Tyler

Rob & Deborah Tyler

Andrew Ugovsek

Richard & Simone Valee

Enid Vallis

Bernadette Van Duyse

Gary & Trudy Vance

Peter Vaughan

Dominique Voyer

Carol Wang

Elizabeth Warlund

Sharon Warnholtz Bowker

Paula Waters

Carol M Watkins

Donald Watson

Janet Watson

Roland & Betty Way

Steven Weary

Emily Webster

Norman & Pat Webster

Philip Webster

Eric T.  Webster Foundation

R. Howard Webster Foundation

Melody Weller

Kevin Wells

Kirke & Marilyn Wells

Gordon & Nancy White

Alf Whittier

Yvonne Wilkin

Lisa & Daryl Williams

Norma Williams

N. Brad Willms

John & Gene Wilmer

Harold Wilson

Wayne Wilson

The Windward Foundation

Serena Wintle

Women's Institute of Hatley

Margaret Woollerton

David Wright

Carolyn Young

Joyce Young

Louise B Zako

Zeller Family Foundation

& our many Anonymous Donors!

 
THANK YOU!