Memory Care Better Living
Grace Village Memory Care
Quality Of Life: Better Living For Seniors With Cognitive Impairment
Examples of Stimulating Memory Care Environments
Below are some pictures of successful implementations elsewhere that give an idea of what Grace Village is plannning in order to enhance the quality of life for our seniors with cognitive impairment such as Alzheimers or other forms of dementia. We have a beautiful new facility for our seniors to live in. We have incredibly dedicated staff to care for them. Now we need your help to turn their living quarters into a place that stimulates their sense of really being at home.
Colours. Familiar objects. Tactile objects to handle and play with. Music. Activity programming.
Think of seniors sitting alone hour after hour by a window or door or in front of a television, with nothing to engage them. Then think of them in a stimulating environment with lots to see, touch and experience. This is not an imaginary scenario - it is all too real for thousands of seniors.
Think now of how your donation can double its impact when matched dollar-for-dollar by the Dr. W. J. Klinck Foundation, up to a total of $12,500 in public donations.
Every $100 you donate delivers $200 in value for our seniors!
You can't beat that for an investment in supporting the people who helped build the communities in which we live. 
That's truly making a meaningful difference in someone's life! Thank you for caring.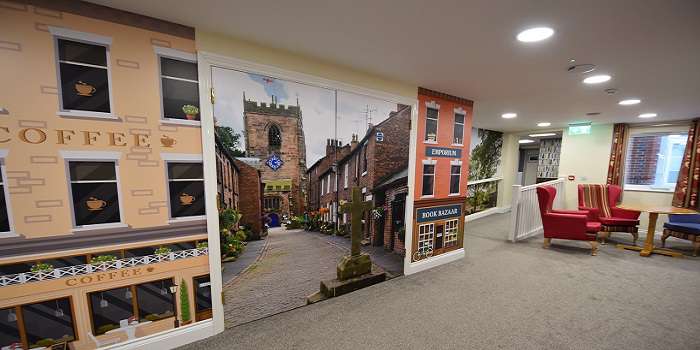 To varying degrees the outside world may no longer exist or be a safe place for many of our seniors with cognitive impairment.  So ... we bring the outside world to them within the safe familiar Grace Village environment!
Vibrant street, shop window and outside life scenes and colours with tactile features to stimulate engagement and interaction.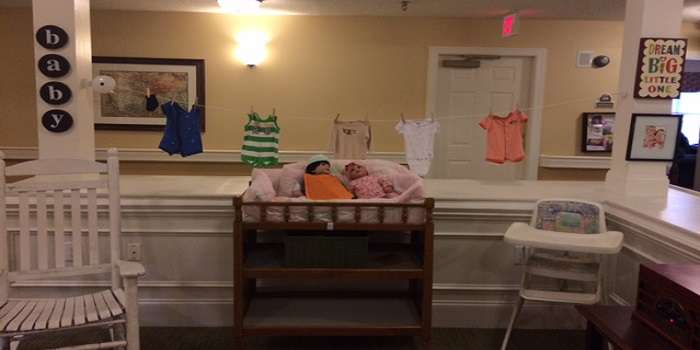 The Familiar Comfortable Home Nook
How did Dorothy put it in The Wizard of Oz? There is no place like home!  That's the idea of the familiar home nook decor and tactile features for our people with cognitive impairment. This is their home, and the more familiar the environment the better.  
Nurseries with babies, kitchens, workshops, laundry - anything that is familiar, comforting and generates positive engagement. We think Dorothy would be pleased.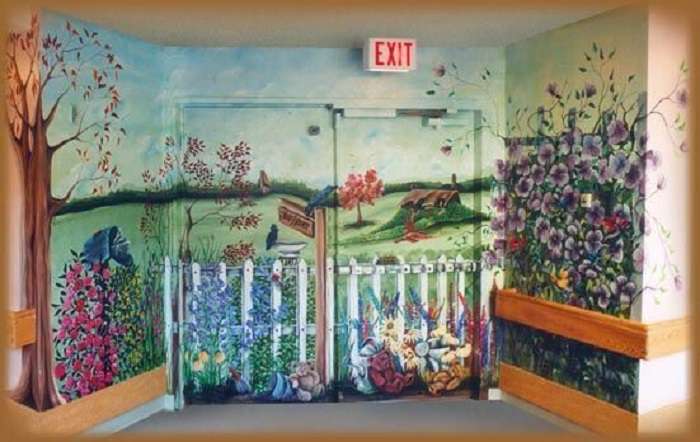 The Artistically Disguised Doors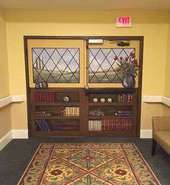 Doors can often trigger an automatic response in people with cognitive impairment to open them and go through, not necessarily due to any conscious desire to "escape" but simply because that's what doors are for!  This can obviously cause frustration and anxiety if the doors won't open as they should.
Why does a door have to look like a door? Why can't it be decorated to look like a familiar object that gives enjoyment rather than anxiety?
The Better Living possibilities are endless!